Posted on Wednesday, March 27th, 2013 at 10:11 am
Author: s.e. smith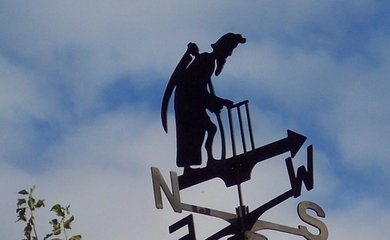 One of the most critically acclaimed episodes of Joss Whedon?s Buffy the Vampire Slayer was season five?s ?The Body,? about the death of Buffy and Dawn?s mother Joyce. In a television show where death, mysterious happenings, and horror were weekly events, the characters were incapacitated by the very prosaic, natural, and commonplace death of Joyce; it was jarring, startling, and unlike seemingly everything else in the series, totally natural and utterly irreversible.
The episode was shot in a very distinctive style that marked a radical departure from most Buffy episodes; lots of long single takes, no incidental music, and the use of disorienting, awkward framing, dialogue, and effects to remind viewers of the profound sense of displacement and peculiarity that can accompany death. Even as someone lies dead, life is going on around the body, and beyond the bubble of acute grief lie the lives of those who are totally unaffected by it.
In a scene with Anya, a vengeance demon with hundreds of years of experience to rely upon, the character expresses angry confusion at not knowing what to do in the face of a death involving a woman she liked, whom she was close to. Anya grieves for Joyce and for Buffy, knowing that the loss of Joyce marks a profound change in Buffy?s life and wondering how Buffy will cope with it.
It is a quietly stunning, stark, profound episode that critics often agree was one of the best in the series, and one of the best television episodes ever broadcast. While Buffy was often dismissed because of its fantasy bent, ?The Body? demonstrated that the show had the capacity to touch upon very real-world issues, and to do so very well.
And this was not an issue that went away. Joyce?s death had profound repercussions for all the characters on Buffy as they tried to cope with her loss in different ways, from Dawn trying to resurrect her mother to Buffy struggling as the head of the household and suddenly understanding how much Joyce had done for her. Joyce, in her absence, became an important theme, rather than an issue dealt with once and then discarded, never to be addressed again. Revisiting Joyce and acknowledging the hole she left in the lives of the characters became a hallmark of the series, just as the equally ordinary, if shocking, death of Tara became an important catalyst for Willow.
Death on television is not usually dealt with in this manner. For the scores of procedural dramas that revolve around death, where one might imagine that death and an exploration of its aftermath would be an important part of the plot, death is merely another interesting body on the slab, a case for people to solve and move on from. Characters are rarely haunted by deaths, and old cases don?t come up again; the ?murder of the week? model actively shies away from the human side of death, focusing on death-as-entertainment and dehumanising the deceased.
On other shows, death rarely appears at all, and when it does, it typically experiences a short shelf life in terms of being dealt with and discussed on any given episode. A character is briefly remembered and noted, and then other characters move on, and the issue doesn?t come up again. Shows like Grey?s Anatomy, which revel in soapy drama and manage to rack up a body count, still manage to put death firmly in the past: how often do characters think of George, who died in season five, for example?
One of the few programmes to face down the Reaper and talk about it in an unflinching manner was, of course, Six Feet Under, which aired to critical acclaim on HBO. While each episode featured a death of the week and the stories of the dead were typically incidental to the larger story of the series, which was about the human drama of the Fisher family and the people who interacted with them, death was an ever-present ghost in the series right from the first episode, when Nathaniel Fisher died in a traffic accident.
Nathaniel appeared again and again over the course of the series, haunting the characters and living alongside them, marking one of the few cases in which a dead person becomes a character in his own right. Meanwhile, his son Nate fought his own battles with death in the form of the ticking timebomb in his head and the mysterious disappearance and death of his wife Lisa. Death was not an abstract notion in the world of Six Feet Under, and the show?s probing of death dealt not just with the mechanics of death, but with the human aftermath.
This made it, like ?The Body,? rather a standout in the world of US television, where death is very much a taboo topic. While dead bodies are par for the course, death as a more complex emotional and philosophical concept is not something often depicted, and when it is, television often seems to hide from its complexity and reality. Characters tiptoe around the subject, and there?s an intense sense of pressure to wrap it up as quickly as possible rather than allowing the natural progression of grief and the experience of death and dying to occur.
The idea of devoting an entire episode to the death of a character and ripple effect of the death on the characters around that person is almost unknown, and it seems to make viewers deeply unsettled and uncomfortable. Whether they don?t like being reminded of the reality of death, or don?t want to be told that death is a subject that does not lend itself to neat boxes, they attempt to distance themselves from the depiction of death on television, and creators take note of this when developing storylines.
On Dead Like Me, another programme that integrated deaths of the week and a long-term exploration of death, George Lass? struggle with her own death was a constant theme in the series, and one that undoubtedly made viewers uncomfortable. As a dark comedy, Dead Like Me was brilliantly successful, but it also cut close to the bone sometimes as George watched her family move on without her. Pushing Daisies, meanwhile, got around this problem by allowing Charlotte to interact with her aunts again, and both shows were deliberately bright, oversaturated, and funny: when they started to get too scary or sad, they shifted gears and moved away from death as a serious subject.
This short shrift for death reflects a rather dysfunctional attitude towards the topic in the US; death is something that happens to other people, and when it does occur, it?s quickly dealt with and swept up. Few deaths are ambiguous, cause of death is always found, murderers are always tracked down, and people recover quickly from the death of loved ones and family members; on procedural dramas, people never really have a chance to see the long-term effects of death, and on other shows, death is such a fleeting event that the drama creates an unrealistic version of what death, dying, and mourning are like.
Why are creators in the United States so terrified of the reaper? Death, crafted and done well, can be a very powerful and compelling part of a narrative; look at the recurring presence of Lily on Veronica Mars as an example of how death can be artfully woven throughout a series as an everpresent subject that haunts the characters, drives them, and plays a key role in their lives. All of us are going to deal with death at some point in our lives; why the reticence when it comes to admitting that?
Photo licensed under the Creative Commons Attribution-Share Alike 2.0 Generic license.
Attribution: Trish Steel
Source: http://globalcomment.com/whos-afraid-of-the-reaper-death-on-american-tv/
dark knight rises trailer vince young vince young evan longoria john edwards conocophillips capitals